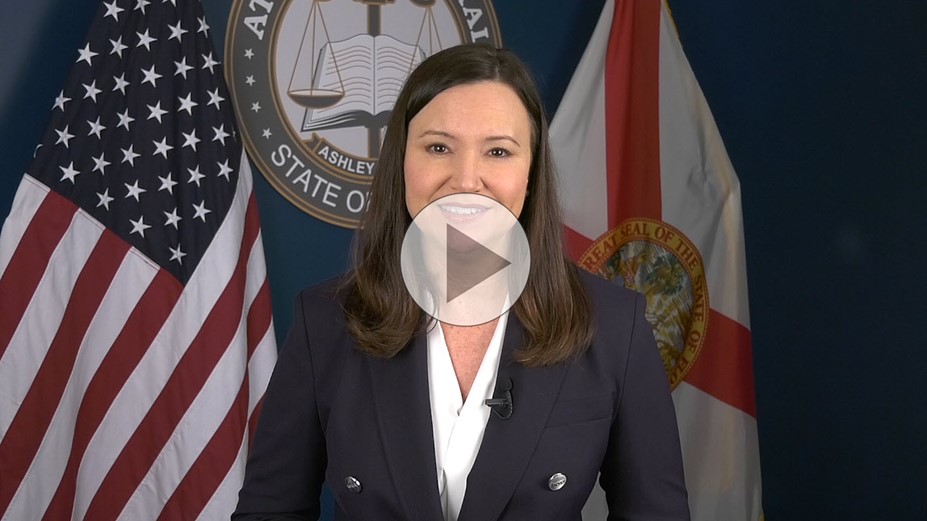 It is International Fraud Awareness Week, and I am encouraging Floridians to stay up to date on the latest scams and take preventative measures to avoid falling victim.
In 2021,
the Federal Trade Commission reported
that a typical fraud case in Florida resulted in the loss of more than $500. Consumers nationwide reported losing nearly $6 billion to fraud last year—a major increase over the previous year.
My Consumer Protection Division works hard to stop scams and protect Floridians—recovering more than $469 million since 2019. While this is great news, a key component to fighting fraud is educating consumers so they can spot and avoid these devious schemes.
Some tips for consumers:
Check account statements regularly to ensure there are no fraudulent charges or withdrawals;
Use credit cards for transactions for added protections;
Be wary of suspicious solicitations, and never send personal or financial information over text or email; and
Create strong, unique passwords for online accounts.
In addition, I want to encourage Floridians to check out our free resources online and to report suspicious activity. Our website is full of consumer-related resources designed to warn Floridians about common and emerging scams, such as Consumer Alerts and my Scams at a Glance program.
You can check out these resources at
MyFloridaLegal.com
.
By knowing how to avoid fraud, you can guard against scams and help us build a Stronger, Safer Florida.

In The News
AG Moody announces $26M for Florida in settlement with Google, NBC 8 Tampa
Florida to receive $26 million of Google's $400 million tracking practices settlement, Yahoo! Finance
Attorney General Moody Secures $390 Million Through Historic Multistate Action Against Google, The Wakulla News
Ashley Moody Leads State AGs Urging DEA to Extend Telehealth Capabilities for Opioid Use Disorder Treatment, Florida Daily
Ashley Moody: Consumer Protection Division Recovered $469 Million From Scammers Since 2019, Florida Daily
Attorney General Moody Secures $390 Million Through Historic Multistate Action Against Google Over Location Tracking Practices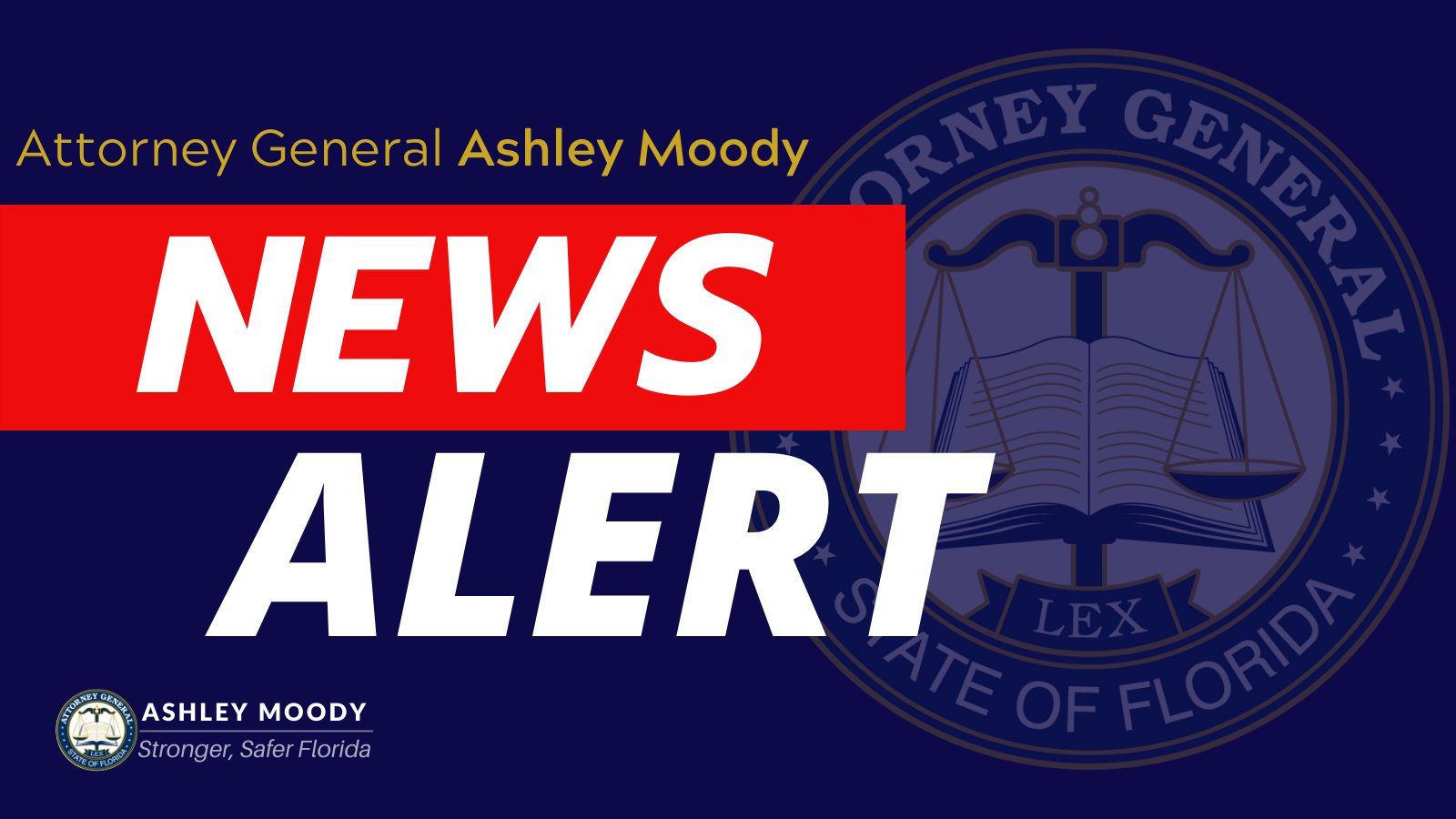 Attorney General Ashley Moody announced a historic multistate action against Google over the tech giant's location tracking practices. The announcement follows a historic multistate investigation by Attorney General Moody and 39 other state attorneys general into the company's location tracking practices and cybersecurity disclosures. As a result of the investigation, the business will pay the states $390 million—including $26 million to Florida. Google must also provide consumers more information and clearer options as it relates to tracking practices.
Attorney General Ashley Moody said, "Big Tech is watching us, but Silicon Valley needs to know that we are watching them too, and if they violate our consumer protection laws, we will take strong action to protect our citizens. This is a historic case for the privacy of Americans and the protection of consumers nationwide, and I am proud our office helped lead this massive, nationwide investigation."
Read More
Attorney General Moody Leads Multistate Effort Urging DEA to Extend Telehealth Capabilities for Opioid Use Disorder Treatment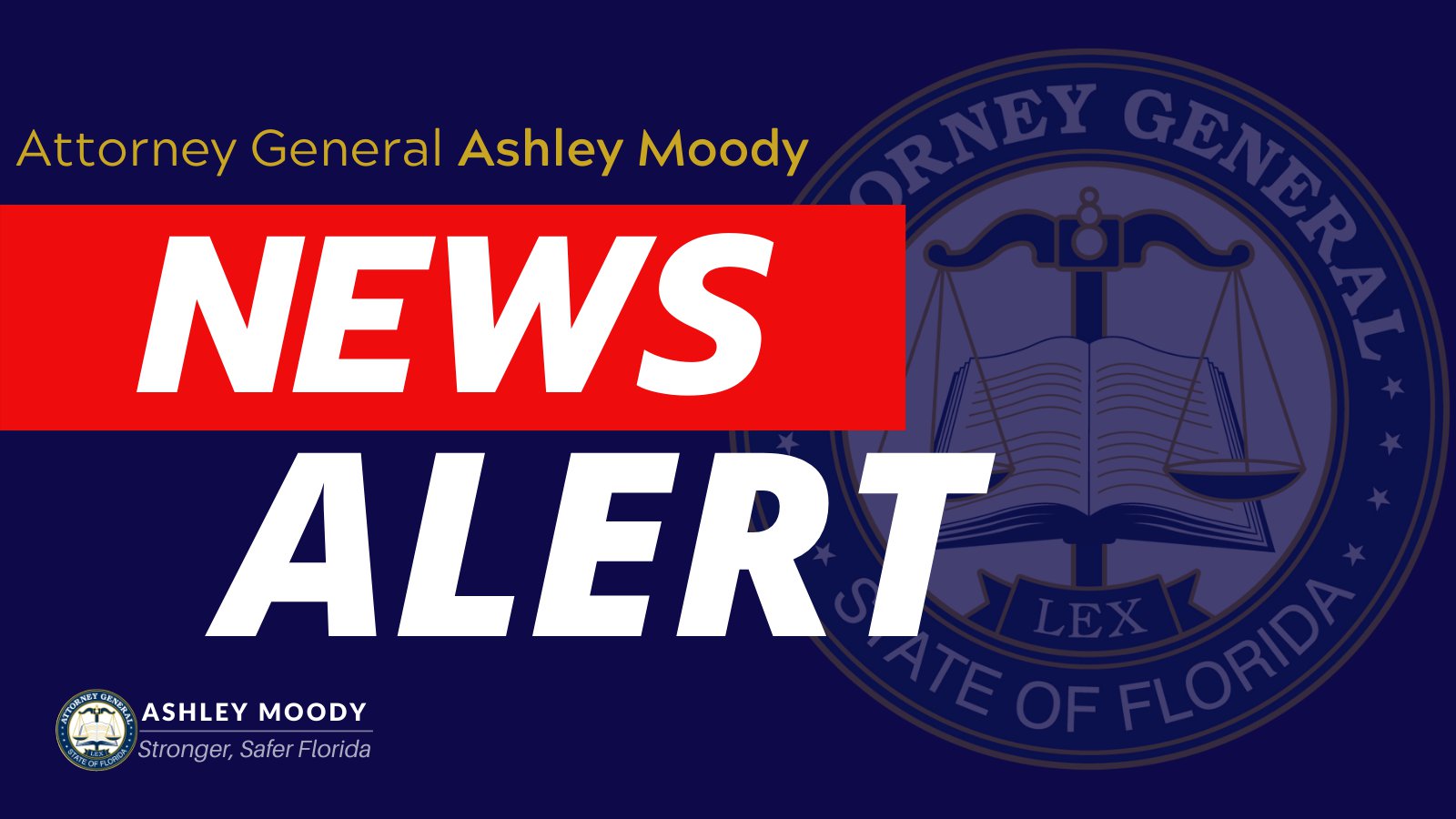 Attorney General Ashley Moody is leading a bipartisan coalition of 45 attorneys general urging the extension of emergency rules to aid those suffering with opioid use disorder. The attorneys general are calling on the Drug Enforcement Administration and Substance Abuse and Mental Health Services Administration to permanently extend telehealth flexibilities for prescribing buprenorphine, an opioid use disorder treatment. Buprenorphine is one of three medications that is FDA-approved to treat patients suffering from addiction. During the COVID-19 pandemic, the Food and Drug Administration allowed telehealth services to prescribe the medication, but this rule is set to expire when the COVID-19 public health emergency ends.
The nation is in the grips of an opioid crisis, with more than 100,000 Americans dying due to overdose last year alone. State attorneys general are on the front lines fighting the crisis to protect Americans from deadly synthetic opioids like fentanyl. Attorney General Moody recognizes that interdiction efforts alone will not end the crisis.
Attorney General Ashley Moody said, "As we continue to fight the deadly opioid crisis claiming tens of thousands of lives across our nation, it is important that people struggling with addiction have access to medication that can help them stop using. Keeping the telehealth rules for prescribing buprenorphine in place will go far in helping us fight this crisis and save lives—and I am proud to lead a bipartisan coalition of attorneys general in this important effort."
Read More
This week, Attorney General Ashley Moody spoke at the Office of the Attorney General's Consumer Protection Division Conference in Orlando.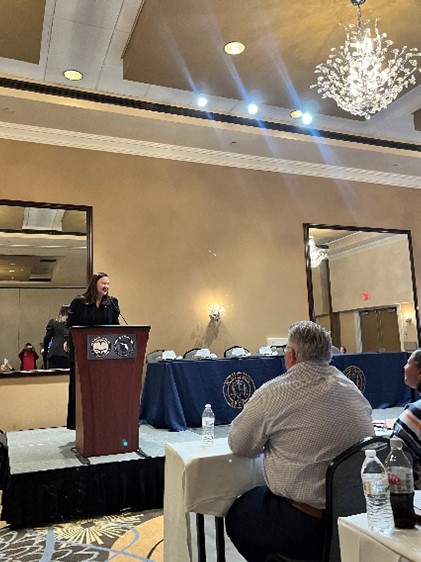 Attorney General Moody presenting White Hat Awards at the conference to Consumer Protection Deputy Director Sasha Granai, Special Counsel Ellen Lyons, Tampa Assistant Bureau Chief Jennifer Pinder and Senior Legal/Paralegal Brittany Lainez. The award is given to team members who demonstrate extraordinary effort and skill in fulfilling the mission of the office. The recipients recently gained a permanent injunction against a fraudulent moving company, securing more than $21 million. For more information, click
here
.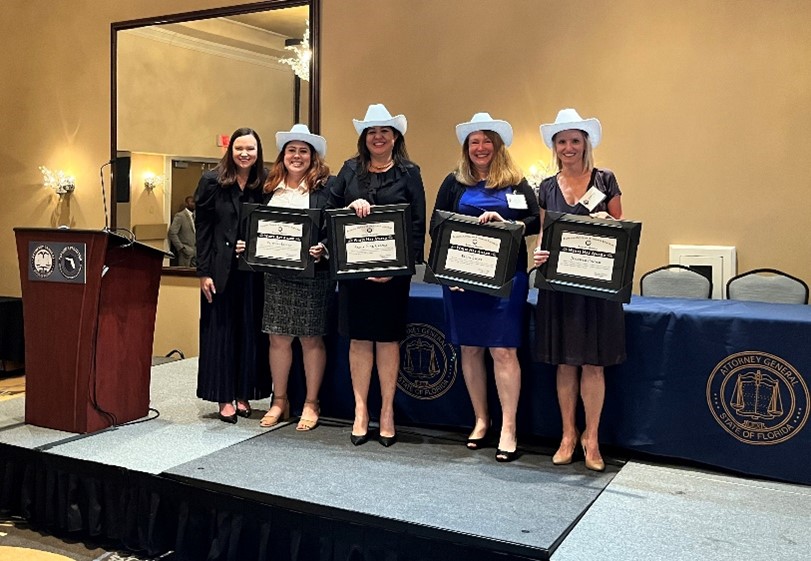 From left to right: Attorney General Moody, Brittany Lainez, Sasha Granai, Ellen Lyons and Jennifer Pinder