Timeshare Resale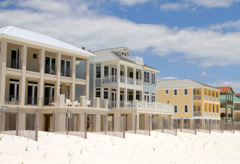 The Attorney General's Office protects timeshare owners by investigating the business practices of telemarketing companies that market their advertising services to timeshare owners interested in selling or renting their timeshare interests. Many of these companies charge exorbitant fees and perform very few services.
Under Florida law, these companies are called "Resale Service Providers" and are required to provide a written disclosure of the fees and costs relating to advertising, listing, or sale of a timeshare interest, as well as other disclosures. Consumers also should request a contract in writing prior to providing any payment information.
Attorney General Bondi joined Senate Majority Leader Andy Gardiner and Representative Eric Eisnaugle during the 2011 legislative session to unveil a legislative initiative that further protects consumers from timeshare resale fraud, a top complaint received by the Attorney General's Office.
The Timeshare Resale Accountability Act includes the following provisions:
A timeshare resale advertiser may not misrepresent a pre-existing interest in the owner's timeshare.
A timeshare resale advertiser may not mislead a customer as to the success rate of the advertiser's sales.
A timeshare resale advertiser may not provide brokerage or direct sale services.
A timeshare resale advertiser must honor a cancellation request made within 7 days following a signed agreement.
A timeshare resale advertiser must provide a full refund to a timeshare owner within 20 days of a valid cancellation request.
A timeshare resale advertiser must not collect any payment or engage in any resale advertising activities until the timeshare owner delivers a signed written agreement for the services.
A timeshare resale advertiser must also provide a full disclosure statement printed in bold type, with no smaller than a 12-point font, and printed immediately preceding the space provided for the timeshare owner's signature.
A timeshare advertising agreement must be put in writing.
A company who violates these provisions has committed a violation of the Unfair and Deceptive Trade Practices Act with a penalty not to exceed $15,000 per violation.
Consumers who are considering conducting business with a timeshare reseller or recovery company should research the company by searching MyFloridaLegal.com for any investigations into that company and/or through the Attorney General's fraud hotline, toll-free in Florida 1-866-9-NO-SCAM or outside Florida (850) 414-3990.